Learn to fly a hangglider
How to get started flying hang gliders
Today flying hang gliders is a safe and fun sport and can be accomplished by pilots of all ages. Strength is not a primary requirement and we have taught both men and women from 45-95kg. Gliders are strong and well tested and all pilot training is regulated by the Hang Gliding Federation of Australia (HGFA).
The best way to try hang gliding is to come for a trial flight in a two place tandem hang glider. We fly tandems most weekends at Locksley airfield 130km north of Melbourne, normally in the smoother air of the mornings or evenings. The tandem hang glider is launched to between 2000 and 3000 feet by towing it to altitude with one of our two hang glider tug aircraft. During the flight you are shown how the glider flies and are given a chance to fly it yourself with the instructor by your side, indeed the procedures used are exactly the same as for the first lesson given to new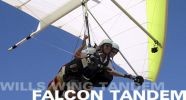 We contact interested persons on the Thursday prior to the weekends to see if they are available. Cost varies with the height we go, flight to 2000 ft costs $185, 2500 ft is $215 and 3000 ft is $245. Most popular is the 2500 ft option. All prices include the required temporary membership of the Hang Gliding Federation of Australia. Potential pilots must be 14 years old or more and under 95kg. Please let me know if we can help further and if you would like to chat please give us a call on 0409526805or email to info@freedomairsports.com.au .
PS here is some vision taken at the world famous Wallaby Ranch in Florida and it shows a similar experience to what we offer.
http://www.youtube.com/watch?v=VuWQANhWjhE
If you like the experience you may like to enroll for a full training course. Done on weekends, this will take about 6 months and will take you to the "supervised" certificate level which allows you to fly solo. Once this is achieved you can develop more experience with instructors and your flying peers. Ultimtely you will be able to fly for hours , to several thousands of feet and for over one hundred kilometers just using the breezes and thermal currents.
If you are not able to come to central Victoria for lessons browse through the Hanggliding Federation of Australia
's list of instructors for further information. The HGFA's website is packed with useful information and help for anyone looking to learn more about the sport and how to get started.